The Way Ahead
Konai Helu Thaman is one of the giants of Pasifika poetry. 'The Way Ahead' imbues the interconnectedness of our past with our present and future. The poem is brought to life through the voice of Mia Kami a Tongan activist, musician, artist and storyteller.
Poetry written by
Konai Helu Thaman
Poetry performed by
Mia Kami
Art Work by
Tui Emma Gillies
Animation by
Mike Bridgman
Music and Sound Design by
Laughton Kora
Full credits at the end of the video
Konai Helu Thaman is from Nukuʻalofa, Tonga. She is the author of five published collections of poetry: You, the Choice of My Parents (1974); Langakali (1981); Hingano (1987); Kakala (1993); and Songs of Love: New and Selected Poems (1999).  Her work is studied by school children throughout the Pacific and beyond; many of her poems have been translated into several languages.  She earned a BA in Geography from the University of Auckland; an MA in International Education from the University of California, Santa Barbara; and a PhD in Education from the University of the South Pacific (USP) in Fiji, where she was one of the longest serving staff until her retirement in 2020. She has researched and published widely in the areas of curriculum, teacher education, indigenous education and more recently Pacific research frameworks and education for sustainable development. Thaman is a fellow of the Asia-Pacific Programme of Educational Innovation for Development and has served as the UNESCO chairperson in Teacher Education and Culture.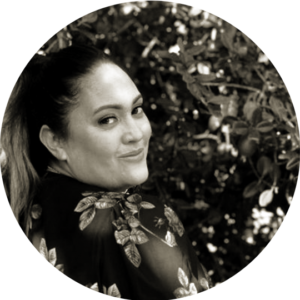 Tui Emma Gillies is a Tongan New Zealand artist who preserves her family's ancestral DNA through the sacred ritual of tapa making. Her work mixes contemporary with traditional and can be challenging, confronting and controversial, but always with respect to the roots of the medium and the ancestors who practised it before her. Tui's work can be found in significant museum and gallery collections around the globe including, USA, Germany, Melbourne, Auckland, and also in many private collections. In 2018 she received the Creative New Zealand Pacific Heritage Art Award and also helped revive hiapo growing and the art of bark cloth making alongside her mother in Falevai, Vava'u where it had vanished decades earlier.
Mia Kami is a Tongan singer/songwriter and is currently teaching at Tupou College Toloa in Tonga. Mia is passionate about indigenous sovereignty, climate change, ocean conservation and the Pacific region. She attended the University of the South Pacific where she majored in Law and Politics. Mia channels her passions into songwriting & uses her music to tell her stories as a young Pacific woman. She believes that art is the strongest form of storytelling that connects Pacific and indigenous people to their ancestors & their descendants. Just this week, Mia was awarded the United Nations Foundation SDG Vanguard Award that recognises leaders whose work and impact reflects the urgency of the Sustainable Development Goals agenda and the imperative to leave no one behind.
Mike Bridgman (Tonga, Ngāti Pākeha) is a multi-interdisciplinary digital artist and has been working within the digital realm for over 20 years across many different industries including film, theatre, television, print, web, video games, music videos, public installations.