Praise Song for Oceania
'Pacific Voices' is a collection of 11 films featuring poets and visual artists from around the Pacific.  The films were made to amplify the presence of Pacific nations at COP 26 in Glasgow, November 2021.
These poets of the Moana bring us fighting words, love letters and laments.  They ask us to feel – for a moment – the overwhelm of planetary grief.  To feel the king tides hit.  To drown in it a little.  To gasp and grasp for the preciousness of our breath.
While the science calls on everything we can measurably know, the poets of the Moana call on everything we've ever known.  We call on all that exists beyond our knowing – our ancestral legacies and languages – seeking the synchronies that held the secrets to our sustainability.
Produced by the Mana Moana Collective with Storybox, this collection captures these contemporary artists and poets at a time of great urgency and indigenous resurgence.
Poetry written & performed by
Craig Santos Perez
Video Art
 Mike Bridgman, Rachael Rakena
Music and Sound Design
 Laughton Kora
Full credits at the end of the video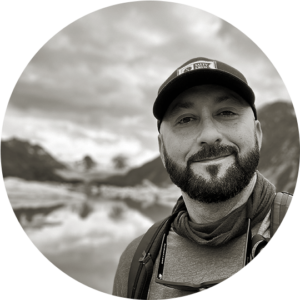 Craig Santos Perez is a Chamoru from the Micronesian island of Guam. He is the co-editor of six anthologies and the author of five books of poetry and the monograph, Navigating Chamoru Poetry: Indigeneity, Aesthetics, and Decolonization. He is a professor in the English department, and affiliate faculty with the Center for Pacific Islands Studies and the Indigenous Politics Program, at the University of Hawaii at Manoa.
Rachael Rakena (Ngāi Tahu, Ngā Puhi, Ngāti Pākehā) coined the term 'Toi Rerehiko' to describe and locate her own video/ digital/ electronic-based art practice in terms of continuum, motion, and collaboration. Critiquing notions of fluid identity and cultural understandings of space and water through metaphors of digital space as water space, inhabited by iwi Māori, her art installations have evolved to enculturate and politicize water itself, navigating issues of ongoing Pacific diaspora, flooding and rising sea levels, and decolonization/(re)vitalization. Exhibiting internationally for 20 years and lecturing for 25 years she is currently based at Whiti o Rehua School of Art, Massey University.
Mike Bridgman (Tonga, Ngāti Pākeha) is a multi-interdisciplinary digital artist and has been working within the digital realm for over 20 years across many different industries including film, theatre, television, print, web, video games, music videos, public installations, festivals, fashion shows, museums, experiential live shows, interactive performances and projection mapping.
After a decade based in Shanghai where he created a vast range of visual experiences for global brands across all platforms, he has returned to Aotearoa bringing his experience to Whiti o Rehua School of Art, Massey University. As a first generation digital director, Mike has been at the forefront of digital arts design evolution.